---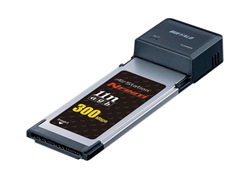 The Wireless-N Nfiniti Dual Band Notebook Adapter from Buffalo is designed to IEEE802.11n standard 2.0 specifications to deliver ultimate connectivity for your wireless world.  This notebook adapter truly allows you to connect to any type of wireless network. No matter if it is Draft 802.11n, 802.11g/b or 802.11a, this Dual Band adapter will connect.  When connected to a Buffalo Nfinity router this CardBus adapter will provide blazing fast connection speeds of up to 300 Mbps.
Features:
Designed to 802.11n Standard 2.0 Specifications
Connects to Any Wireless Network: 802.11n, 802.11g/b and 802.11a
Wireless Connections up to 300 Mbps
32-bit CardBus Interface, Fits Any Type II or Type III PC Card Slot
Easy Setup with AirStation One-Touch Secure System (AOSS™)
Supports WPA2-PSK(TKIP/AES) 、WPA-PSK(TKIP/AES)、WEP(128 / 64bit) Security;
Device Name: BUFFALO WLI-EXC-AG300N Wireless LAN Adapter
Hardware ID: PCI\VEN_168C&DEV_0024&SUBSYS_035E1154
BUFFALO WLI-EXC-AG300N Wireless LAN ExpressCard Windows 2000/XP/Vista/Win7 Drivers:
Download ( 1.6MB, 10/20/2009, Ver.8.0.0.225)
The driver also support BUFFALO WLP-EXC-AG300 Wireless LAN Adapter.