---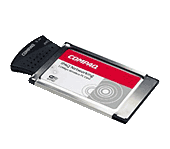 Device Name: Compaq 11 Mbps Wireless PC Card
Device ID: PCMCIA\COMPAQ-11MBPS_WIRELESS_PC_CARD-737B
TITLE: Compaq iPAQ Wireless PC Card Driver for Windows XP
Version: V. 2.10.29.1029 (14 Dec 2001)
Operating System(s): Microsoft Windows XP Home Edition, Windows XP Professional
File name: sp19978.exe (2.3 MB); Download 1, Download 2
DESCRIPTION: This contains the Windows XP driver for the Compaq iPAQ Wireless PC Card,for use with any computer running Windows XP that has a PCMCIA slot. This is the same driver that was in SoftPaq SP19556, but it is packaged differently for easier installation.
LANGUAGE(S):  English
ENHANCEMENT(S):  
- New deployment for easier installation. (More details available in README.TXT file unpacked when SoftPaq is executed.)
HOW TO USE:
1. Download the SoftPaq to a directory on your hard drive.The file downloaded is a self-extracting executable with a filename based on the SoftPaq Number above.
2. Execute the SoftPaq by double clicking on the SoftPaq executable file.
This package also valid for "GemTek Wireless 11 Mbps Mini-PCI Card" (Device ID: PCMCIA\GemTek-Wireless_11Mbps_MiniPCI_Adapter-EE0D)