---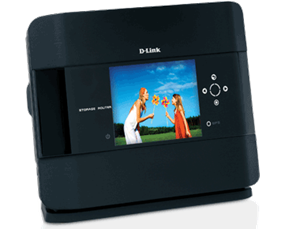 Description:
The new Xtreme N Storage Router (DIR-685) makes networking easier by combining the superior features of a wireless N router, a built-in Network Attached Storage (NAS) and a digital photo frame.
D-Link is proud to present the new Xtreme N™ Storage Router (DIR-685). By combining the superior features of a wireless N router, a built-in Network Attached Storage (NAS), digital photo frame, and D-Link Green power saving features the DIR-685 creates the ultimate user experience while conserving energy.
Experience faster speed and longer range in your home or office network with the latest 802.11n 2.4GHz wireless technology*. By adding a 2.5" SATA Hard Drive, the DIR-685 allows you to share storage over your network and access files over the Internet with the built-in FTP server.
Featuring a built-in UPnP® AV server, streaming network stored videos through a compatible media player (including PlayStation® 3 and Xbox 360®) onto your television has never been easier thanks to the DIR-685.
The upright design shows off the attractive view of the 1.6 million color 3.2" LCD screen with sleek touch-sensitive buttons that provide a modern feel to allow easy control of device functions and digital display of photographs. Easily access and share your photographs from popular photo sharing sites through FrameChannel™.
High-speed Connection
With an integrated 802.11n high-speed band and a 2.4GHz signal, you can experience full wireless coverage throughout your network. Experience faster speed and longer range with powerful internal MIMO antennas.
Share Storage Over a Network or Internet**
The DIR-685 has the ability to hold a compact 2.5" hard drive and includes a built-in NAS, which allows you to safely store files on your home network. A built-in FTP server is also included to allow you convenient access to storage wherever Internet is available.
BitTorrent Support™
The DIR-685 includes the latest BitTorrent™ software support so you can access and store digital media directly from the Internet without the need for a dedicated PC to be turned on or connected.
Video Streaming
A built-in Universal Plug and Play (UPnP®) AV server allows you to easily stream video files stored on your network through a compatible media player onto your television. You can even stream files from your Xbox 360® and PlayStation3® gaming system.
Internet Photo Frame
Share your latest photos with family and friends using FrameChannel®, Flickr™, Picasa®, Facebook®, and other popular photo sharing sites using your FrameChannel® account. You can also use the DIR-685 to subscribe to your favorite RSS feeds. Get the latest news, stock updates, sports scores, clock, calendar, weather conditions, and more directly on your frame.
SharePort™ Technology
With two USB 2.0 ports, you can connect a printer and an external storage device to share throughout your network. You can even share a multifunction printer. SharePort™ is Mac compatible.
Gigabit Ethernet Ports
Includes Ethernet Gigabit ports for file transfer rates up to 10x faster than the standard 10/100 Ethernet ports.
File Uploader Widget Tool
The downloadable Storage Router Widget™ makes uploading music, photos and file documents from a PC to your storage router easy and simple. The widget allows you to choose specific files from your PC and view the upload status to your router.
What This Product Does
Create a wireless network to share high-speed Internet access with computers, game consoles and media players. Safely store files, print and share photos through your home or office.
Xtreme N™ Storage Router Benefits
Intelligent Wireless Prioritization Technology
Xtreme N technology allows for farther home coverage*
Secure your wireless network using advanced WPA™ or WPA2™ encryption
WiFi® Protected Set-up (WPS) touch-sensitive button to easily add devices to your network
Easy to get started with the new D-Link Quick Router Setup Wizard***
Supports Good Neighbor Policy – will not interfere with other wireless networks
Backward compatible with 802.11g devices including game consoles and digital media players
Think Green
D-Link Green™ devices are about providing eco-friendly alternatives without compromising performance. They are designed to help conserve energy, protect our environment from harmful substances, and reduce waste by using recyclable packaging.
Conserves Energy
Automatically powers down ports that have no link
Budgets power output for different Ethernet cable lengths
Includes wireless LAN scheduling, which can shut down your wireless network when not in use for further power savings
Reduces energy consumption by using an Energy Star® qualified power adapter
During periods of no activity the LCD display automatically enters sleep mode to further reduce energy usage.
Protecting the Environment
Complies with the European Union's RoHS directive that restricts the use of certain hazardous materials
Uses recyclable packaging to help reduce waste that goes into the environment
Features
Award-Winning Xtreme N Wireless Technology
Insert a 2.5" SATA Hard Drive to Provide Network Storage and Freedom to Access Files over the Internet
Use the 3.2" Color LCD to View Photos Stored on Your Network Drive and Popular Photo Sharing Sites
Stream Digital Content to UPnP® AV Media Players Including PlayStation® 3 and Xbox 360®
Share a Printer or External Hard Drive with the New SharePort™ Technology
D-Link DIR-685 Xtreme N Storage Router Data Sheet (PDF)
[From D-Link ]