---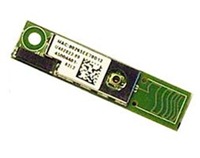 The Dell Wireless 375 Bluetooth Module is a new smaller version of a daughter card. The card connects to the system board using a cable. The card is smaller than the Dell Wireless 365 Bluetooth daughter card but provides the same reliability and the new Bluetooth 3.0 standard. The card works in Windows XP, Windows Vista and Windows 7.
Support for Bluetooth 3.0, – Enhanced Power Control to maximize range and read encryption size for enhanced security
Uses latest Broadcom 2070 based low power, low cost, small form factor, ROM based Bluetooth chipset
Improved range performance by using off-board LCD integrated antenna
Uses onboard meander antenna when performance with this is sufficient
Windows 7, Windows Vista, Windows XP, Ubuntu and Linux support
Additional Bluetooth Profiles – Health Device Profile, AVRCP 1.4, OBEX 1.4 and OBEX enhancements, Enhanced L2CAP with flow and error control
Audio improvements for Windows 7
Backwards compatibility with all Bluetooth standards
Manufacturer Part : 555-13291
Dell Part : 555-13291
Device Name: Dell Wireless 375 Bluetooth Module
Hardware ID: USB\Vid_413C&Pid_8187
Dell Wireless 375 Bluetooth Module Windows XP 32/64bit Driver, Software:
Download (Release Date: 5/7/2010, Version: 5.6.0.3900, A03; 246 MB)
Supported Dell Computers:
Dell Latitude 2110, Latitude E4310, Latitude E5410, Latitude E5510, Latitude E6410, Latitude E6410 ATG, Latitude E6510
Dell Precision Mobile WorkStation M4500
DW375 Bluetooth - Windows XP Combined Driver and Application Installer.
Included Languages: Arabic, Brazilian Portuguese, Bulgarian, Chinese Hong Kong, Chinese-S, Chinese-T, Croatian, Czech, Danish, Dutch, English, Estonian, Finnish, French, German, Greek, Hebrew, Hungarian, Iberian Portuguese, Italian, Japanese, Korean, Latvian, Lithuanian, Norwegian, Polish, Romanian, Russian, Serbian Latin, Slovakian, Slovenian, Spanish, Swedish, Thai, Turkish, Ukrainian