---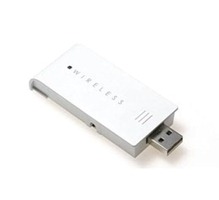 Overview
This high-speed, wireless network adapter plugs directly into select Epson projectors allowing quick and easy access to the LAN or peer-to-peer networks without wires or cables. When used with Epson Easy MP Monitor and Network Projection software, users can remotely access and control projectors over the wireless LAN.
Compliant with IEEE 802.11g/b/a standards
Uses USB type A connector
Data rates up to 54Mbps
Supports 64/128-Bit WEP, WPA2 Security
Note: When used with the BrightLink Interactive projector, the Wireless 802.11g/b/a adapter allows for wireless network connection and management of the projector. Use of the BrightLink USB cable is still required for interactive functionality.
How to set up a wireless projector on an wireless infrastructure network?
In order to set up a connection between your projector and a computer, you must install the Wireless LAN unit in the projector. Also, install EasyMP Network Projection (formerly EMP NS Connection) from the supplied EPSON Projector Software for Meeting & Presentation CD-ROM onto your computer. To use the full EasyMP functions, install all the software from the CD-ROM. See your projector's User Guide and EasyMP Guide for help.
There are two methods of connecting the projector and a computer via a network by using EMP NS Connection; 'Advanced Connection Mode' and 'Quick Connection Mode'.
Advanced Connection Mode is an infrastructure connection, and connects to an existing network system via a network cable. If you install the Wireless LAN unit, in the projector, you can connect to the network via a wireless LAN access point. Advantages of this mode include:
From a conference room, you can open and project a file stored on a computer or file server in another room.
You can use the Internet.
You can monitor and control projector's on a network from the computer.
[ Read more … ]