---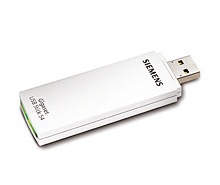 Enhance your home network with a Gigaset wireless USB stick. Easy to install and featuring a handy design, the Gigaset USB Stick 54 simply slots into your PC or laptop to enable wireless connectivity with any wireless router. Data transmission rates of 54 Mbps ensure you can comfortably surf the net from up to 30 meters away indoors or 150 meters outdoors.
Wireless data transfer at up to 54 Mbps (compatible with IEEE 802.11b/g)
For internet access in combination with a wireless router or access point
Range up to 30 m indoors, 300 m outdoors
Comprehensive security features (WPA2-PSK, WPA-PSK, WEP encryption)
Compact, user-friendly design
Easy to install and configure
Hardware interface: USB 2.0
Pre-configured for usage with Gigaset routers
SIEMENS Gigaset USB Stick 54 is based ZyDAS ZD1211B chip.
Device Name: Gigaset USB Stick 54

Hardware ID: USB\VID_129B&PID_1667
SIEMENS Gigaset USB Stick 54 Windows 98, ME, 2000, XP, Vista Drivers and Utility:
Gigaset USB Stick 54 version 2.0.2.4 and 1.0.0.9: Download (9.87 MB)
Gigaset USB Stick 54 User guide (full version) English (PDF): Download