---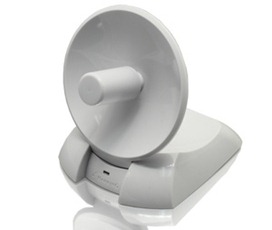 Hi-Gain Wireless-150N USB Dish Adapter
The Hawking Hi-Gain Wireless-N USB Dish Adapter Extends Your Wireless Network Distance by up to 500%! It is capable of transferring data at up to 150Mbps. The Wireless-150N USB Dish Adapter is engineered with high grade material ensuring maximum quality and performance. Furthermore, it is backward compatible with Wireless 802.11b and 802.11g and will operate on the highest throughput that your network allows.
Features:
Go greater distances within you wireless network by improving overall network coverage by 6x
Boosts Data Throughput 6x allowing uploads at speeds up to 150Mbps
Excellent Solution for Media-Intensive Activities with high speed Data Transfer Rate
Supports WEP, WPA (PSK, TKIP), and WPA2 (AES) Security Encryption for the highest level of security
Setup is quick and simple
Device Name: HWDN2 Hawking Technologies Hi-Gain USB Wireless-150N Dish Adapter
Hardware ID: USB\VID_0E66&PID_000B

Device Name: Hawking Hi-Gain USB Wireless-N Dish Adapter
Hardware ID: USB\VID_0E66&PID_0015
Download Hawking HWDN2 Wireless-150N USB Dish Adapter Windows XP, Vista, Win7, Mac OS Driver, Software:
Note Hawking HWDN2 Hardware Version:
1. Original Hardware Version, (Ralink Chipset), Serial Number: HSNTWDN2...

For Windows 2000, XP 32/64bit, Vista 32/64bit, Win7 32/64bit , Download [driver_Win_HWDN2.exe]
For Mac OS 10.3, Mac OS 10.4, Mac OS 10.5, Mac OS 10.6, Mac OS 10.7
2. Revision E, (Realtek Chipset) Serial Number: HEMCWDN2E...
For Windows 2000, XP 32/64bit, Vista 32/64bit, Win7 32/64bit, Download [driver_Win_HWDN2E.zip]
For Mac OS 10.4, Mac OS 10.5,  Mac OS 10.6
[ From Hawking Official ]