---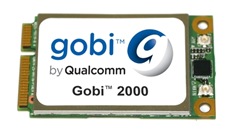 TITLE:Qualcomm Mobile Broadband Windows XP/Vista Drivers – Gobi2000
DESCRIPTION:
This installer package contains the drivers for the Qualcomm Gobi2000 HP un2420 Mobile Broadband Module in the supported notebook/laptop models running a supported operating system.
HP UN2420 Mobile Broadband Module (Gobi2000) Windows XP, Vista Drivers:
Download 1, Download 2, File name: sp44912.exe (20 MB)
Version: 1.1.7.0 REV: A (17 Aug 2009)
Supported Operating System(s):
Microsoft Windows Vista (32-bit/64-bit), Windows XP
Supported HP Notebook Model(s):
HP Mini 1101
HP ProBook 5310m Notebook PC
HP ProBook 4310s Notebook PC
ENHANCEMENTS: 
- Provides the initial release of the Qualcomm Gobi2000 Drivers for the Microsoft Windows XP and Microsoft Windows Vista Operating Systems.
PREREQUISITES:
- An HP notebook with a supported, embedded, mobile broadband module.
- Power to the mobile broadband module must be ON (if using with HP System Software Manager).