---
HP Wireless LAN 54g W450/WL450 Driver for WinXP / Windows XP Tablet PC Edition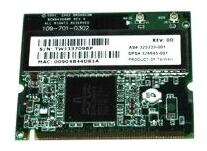 Device PCI ID:
PCI\VEN_14E4&DEV_4320&SUBSYS_12F4103C
PCI\VEN_14E4&DEV_4320&SUBSYS_12F8103C
PCI\VEN_14E4&DEV_4320&SUBSYS_12FA103C
PCI\VEN_14E4&DEV_4320&SUBSYS_12FB103C
HP Wireless LAN 54g W450/WL450 Driver for WinXP / Windows XP Tablet PC Edition: Download sp31463.exe (3.3 MB)
This package contains the Microsoft Windows XP driver for the HP Wireless LAN 54g WL450, Broadcom 802.11b, Broadcom 54g MaxPerformance 802.11g, Broadcom 802.11b/g, and Broadcom 802.11a/b/g adapters for some notebook models. Includes 802.11g compliance for supported adapters that are capable of 802.11g. Supports Wi-Fi Protected Access (WPA). Supports LEAP, and other Cisco features (software supplicant required). This version includes "125 High Speed Mode" support for certain notebook models (see Enhancements section) with a Broadcom 54g MaxPerformance 802.11g adapter.