---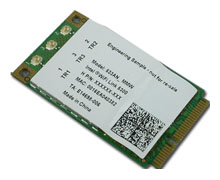 The Intel WiFi Link 5000 is a family of IEEE 802.11a/b/g/n wireless network adapters that operate in both the 2.4 GHz and 5.0 GHz spectra. These adapters, available in both PCIe* Mini Card and Half Mini Card form factor deliver up to 450 Mbps of bandwidth via features such as MIMO technology, 40 MHz Channel support, and Packet Aggregation.
The widespread acceptance of 802.11n products has been driven by users seeking to exchange information in a timely manner, stream High Definition (HD) video, and handle voice, video, and data traffic concurrently. This has led to the adoption of 802.11n as a key technology component in both Consumer and Enterprise notebook PCs. The Intel WiFi Link 5000 Series Wireless Adapters incorporate this 802.11n technology with the Intel® Ultimate N WiFi Link 5300 Series delivering leading edge bandwidths of up to 450Mbps. [Readme More…]
NOTE: Use the EXE file for automated driver installation. 
Intel WiFi Link 5100/5300 Driver-Only for Windows 7: (Date:2/26/2010)
For OS:Windows 7 32-bit: Ver:13.1.1.1, Size:6549 (KB); ICS_Ds32.exe, Download
For OS:Windows 7 64-bit: Ver:13.1.1.1, Size:7426 (KB); ICS_Ds64.exe, Download
---
Intel WiFi Link 5100/5300 Driver-Only for Windows Vista:(Date:2/26/2010)
For OS:Windows Vista 32-bit: Ver:13.1.1.1, Size:3938 (KB); ICS_Dv32.exe, Download
For OS:Windows Vista 64-bit: Ver:13.1.1.1, Size:4391 (KB); ICS_Dv64.exe, Download
---
Intel WiFi Link 5100/5300 Driver-Only for Windows XP:(Date:2/26/2010)
For Windows XP 32-bit,  Ver:13.1.1.1, Size:3906 (KB); ICS_Dx32.exe, Download
For Windows XP 64-Bit,  Ver:13.1.1.1, Size:4344 (KB); ICS_Dx64.exe, Download
Intel PROSet/Wireless WiFi Connection Utility for WiFi Link 5100/5300: Download