---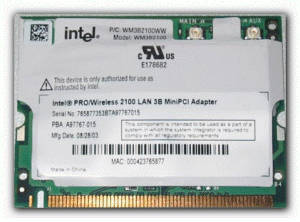 Embedded 2.4 GHz Wireless Local Area Network (LAN) MiniPCI adapters. The MiniPCI Types 3B and 3A form factors are designed for notebook computer systems where overall thickness must be kept to an absolute minimum.
Key Features:
2.4 GHz support
Up to 11 Mbps at 2.4 GHz
IEEE 802.11b standard technology
Industry standard wireless LAN security support is available (802.1X, WEP, WPA**) with enabling software implementation.
Device Name: Intel(R) PRO/Wireless LAN 2100 3B Mini PCI Adapter
Hardware IDs:
PCI\VEN_8086&DEV_1043&SUBSYS_25278086, PCI\VEN_8086&DEV_1043&SUBSYS_25228086
PCI\VEN_8086&DEV_1043&SUBSYS_25288086, PCI\VEN_8086&DEV_1043&SUBSYS_25298086
PCI\VEN_8086&DEV_1043&SUBSYS_25518086, PCI\VEN_8086&DEV_1043&SUBSYS_25538086
PCI\VEN_8086&DEV_1043&SUBSYS_25548086, PCI\VEN_8086&DEV_1043&SUBSYS_25558086
PCI\VEN_8086&DEV_1043&SUBSYS_25708086, PCI\VEN_8086&DEV_1043&SUBSYS_25818086
PCI\VEN_8086&DEV_1043&SUBSYS_25858086, PCI\VEN_8086&DEV_1043&SUBSYS_25868086
PCI\VEN_8086&DEV_1043&SUBSYS_25878086
PCI\VEN_8086&DEV_1043&SUBSYS_25918086, PCI\VEN_8086&DEV_1043&SUBSYS_25938086
PCI\VEN_8086&DEV_1043&SUBSYS_25968086, PCI\VEN_8086&DEV_1043&SUBSYS_25988086
PCI\VEN_8086&DEV_1043&SUBSYS_25A08086
Device Name: Intel(R) PRO/Wireless LAN 2100 3A Mini PCI Adapter
Hardware IDs:
PCI\VEN_8086&DEV_1043&SUBSYS_25238086, PCI\VEN_8086&DEV_1043&SUBSYS_252B8086
PCI\VEN_8086&DEV_1043&SUBSYS_252C8086, PCI\VEN_8086&DEV_1043&SUBSYS_252D8086
PCI\VEN_8086&DEV_1043&SUBSYS_25618086, PCI\VEN_8086&DEV_1043&SUBSYS_25658086
PCI\VEN_8086&DEV_1043&SUBSYS_25668086, PCI\VEN_8086&DEV_1043&SUBSYS_25678086
Intel PRO Wireless LAN 2100 3A&3B Mini PCI Windows 2000/XP Driver and Software:
Download 1, Download 2 (From ThinkPad)