---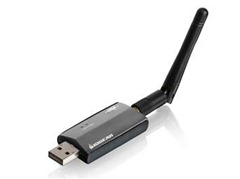 Wireless USB Adapter [ GUWA200 ]
The Wireless USB Adapter enables your PC to wirelessly connect to USB devices. Wireless USB is a short range (in room) wireless technology that eliminates USB cables between your PC and USB based peripherals such as USB printers, webcams, external hard drives, or any type of USB based device.
Features:
Reduce Cable Clutter – This Adapter enables your PC to wirelessly access your Wireless USB devices from up to 30 ft. away without a cable
Certified Wireless USB – Seamlessly work with other certified Wireless USB devices and solutions
Easy Set-up – Scan, print, or connect to projectors, monitors, and TVs wirelessly without the long and unattractive cable runs. No complicated network setup.
Device Name: IOGEAR Radio Controller Interface

Hardware ID: USB\VID_3495&PID_3031
IOGEAR GUWA200 Wireless USB Adapter Windows XP, Vista Drivers & Utility,
For Windows Vista 64-bit, Download (19.54 MB), Ver.1.2, March 23, 2010
For Windows XP 32-bit, Vista 32-bit,  Download (41.91 MB) , Ver.1.2, March 23, 2010