---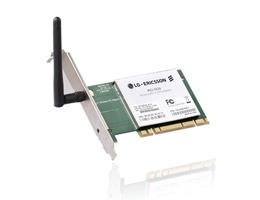 Overview
The LG-Ericsson PCI-1020 Wireless 802.11n PCI Adapter is the ideal solution for providing high speed wireless connectivity to desktop PCs. With wireless transfer speed at up to 150Mbbs, the PCI-1020 significantly improves the wireless connectivity and signal while staying backwards compatible with existing 802.11g network. In addition to providing basic connectivity, the LG-Ericsson PCI-1020 provides enough performance for simultaneous downloads, music and video streaming and online gaming.
The LG-Ericsson PCI-1020 Adapter supports WPA and WPA2 wireless encryption to ensure that the wireless network is secure. The Installation Wizard guides users step-by-step through the installation process. In addition, an optional low profile bracket included in the package provides significant flexibility for installation in low-profile devices, such as slim PCs and servers.
Combining high speed with ease of use and flexible installation, the LG-Ericsson PCI-1020 Wireless 802.11n PCI Adapter provides high performance and security to the home and home office.
Harware Info:
Device Name: LG-Ericsson PCI-1020 Wireless 802.11n PCI Adapter
Hardware ID: PCI\VEN_1814&DEV_3060&SUBSYS_3C951948
LG-Ericsson PCI-1020 Wireless 802.11n PCI Adapter Windows XP 32/64bit,Vista 32/64bit,Win7 32/64bit Driver,Utility:
Download 1,Download 2 (27MB)