---
Dual-Band Wireless-N Gaming Adapter, WGA600N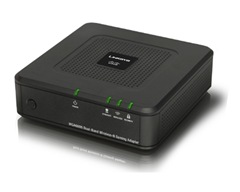 Cut loose and enjoy your gaming thrills without wires. The Dual-Band Wireless-N Gaming Adapter instantly powers-up your Ethernet-enabled game consoles with fast connectivity, so you can get your game on without wires.
Technical Features:
Give your game console blazing fast Dual-Band Wireless-N connectivity.
No-wire head-to-head gaming with much less lag.
Works with Ethernet-enabled Xbox, PlayStation, GameCube, and other consoles, no drivers required.
Linksys WGA600N Firmware, 10/28/2008, Ver.1.0.5, Download (1.31MB), Release Notes
Linksys WGA600N Setup Wizard software, 11/20/2008, Ver.1.0.0, Download 1, Download 2 (28 MB)
Linksys WGA600N Wireless-N Gaming Adapter Quick Installation Guide: WGA600N_QI_WEB,0.pdf