---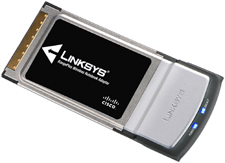 RangePlus Wireless Notebook Adapter Expand Your Wireless Coverage with MIMO!
Connect without wires in more locations. Slide the RangePlus Wireless Notebook Adapter into your computer's PC Card slot and get ready for the freedom of fast, reliable wireless network connectivity.
Performance Power, RangePlus smart antenna technology delivers reliable high-speed connectivity to wireless networks, with extended range and reduced dead spots—so you can access the Internet, printers, storage and other networked devices without having to plug in. Offers optimal performance with Wireless-N networks, but works with Wireless-G and -B networks as well.
Device Name: RangePlus Wireless Notebook Adapter
Hardware ID: PCI\VEN_168C&DEV_0023&SUBSYS_00691737
Download Linksys WPC100 RangePlus Wireless Notebook Adapter Windows Drivers:
Download Driver (Vista 32-bit) ,  7.3.1.127 ,12/26/2007,   298 KB
Download Driver (Vista 64-bit) ,  7.3.1.127, 12/26/2007,  311 KB
Download Driver (XP), 6.0.3.120,  12/26/2007,  375 KB
Linksys WPC100 RangePlus Wireless Notebook Adapter Manuals: