---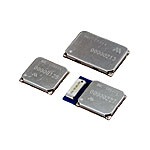 § Overview
These products are Bluetooth modules, whose concept is placed on replacing existing models and high speed rate power saving, supporting the new Bluetooth standard Ver.2.0 + EDR. By matching the sizes, foot patterns, and arrangement of both Class 1 and Class 2 with the previous modules of the previous standard (Bluetooth Ver.1.2), the new products are made replaceable with the previous models.
§ Features
1. Many I/O terminals programmable for application.
2. With RFCOMM Stack, Headset Profile, Serial Port Profile, etc. can be implemented.
3. With UART and PCM interfaces, wide variety of applications can be supported.
4. Class 1 and Class 2 are supported. Class 2 with antenna model is also available.
5. Operative temperature range: -40~+85ºC (Class2), -40~+70ºC (Class1)
§ Main specifications
Frequency band: 2402~2480MHz
Channel: 79ch
Power voltage: 1.8±0.05V; 3.3V (2.8~3.4)
Transmission rate: 1Mbps, 2Mbps, 3Mpbs (automatic switching)
Receiver sensitivity: -80dBm typ.
Output level: 4dBm (Class 2)
Built-in flash volume: 8Mbit
[ Mitsumi ]