---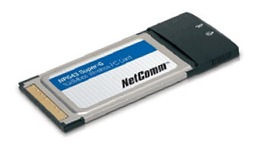 Overview
The NP643 Wireless PCMCIA card is ideal for enabling a notebook computer for wireless. It features the Atheros Super-G mode to turbocharge wireless transfer rates up to 108Mbps and is perfect for use with NetComm's NB600W and NB620W Super-G wireless routers. This Adapter is also backward compatible with standard 802.11g (54Mbps) and 802.11b (11Mbps) wireless equipment.
Super-G Mode The NB642 contains the Atheros chipset, which powers wireless transfer speeds up to 108 Mbps when used with NetComm's range of Super-G (108Mbps) wireless routers.
Compatibility Compatibility with IEEE 802.11b and 802.11g Wireless standards. This backwards compatibility means you do not need to change your existing network to maintain connectivity.
Security Data security is critical. The NP643 is armed with industry standard 128-Bit WEP encryption as well as the more advanced Wi-Fi Protected Access (WPA) and Wi-Fi Protected Access Pre Shared Key (WPA-PSK).
NetComm NP643 Wireless LAN PCMCIA Card Windows 98, ME, 2000, XP Drivers & Utility:
NP643 Drivers: NP643_Drivers.zip (1.8 MB)
NP643 Utility: NP643_Utility.zip (5.3 MB)
[ From NetComm ]