---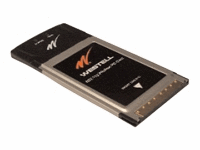 At 54 Mbps, this wireless 2.41 GHz 802.11b/g PC card is much faster than existing 11 Mbps wireless networks and offers speeds faster than other deployed IEEE 802.11b products. You will receive continuous access to your home wireless router or office network along with saving you time and expense of installing Ethernet cabling when you need to expand a network. With Westell's PC Card, installation is a breeze and will have you smooth sailing your network in flash. Additionally, it allows network users to share a broadband Internet connection for access to the Internet, email, searches ... all wirelessly and with superior security.
Device Name: Westell 802.11g Wireless PC Card
Supported Device IDs:
PCI\VEN_104C&DEV_9066&SUBSYS_906716AB   
PCI\VEN_104C&DEV_9066&SUBSYS_906816AB   
PCI\VEN_104C&DEV_9066&SUBSYS_906916AB
Westell (A90-200WG-01) 802.11b/g Wireless PC Card Win98/WinME/Win2k/WinXP Drivers, Utility:
Download 1, Download 2 (4.5MB)
Tips: This adapter's hardware is same to USR805416 802.11g Wireless Turbo PCI Adapter, so you can also apply USR805416 software.