---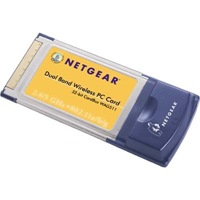 Tri-mode 802.11a/b/g PC Card Takes You Everywhere
Freedom of movement and universal access - NETGEAR's Dual Band Wireless PC Card gives you both in spades! Remarkably versatile, it lets you access any 802.11a/b/g wireless network from your notebook PC. Put it in your notebook PC and no matter where you are, at home, at the office, at the airport or in other public access areas, you'll get high-speed access to corporate resources, e-mail, and the Internet. WAG511 automatically chooses the frequency with the most available bandwidth - either the widely used 802.11g or the interference-free 802.11a - each able to achieve up to 108 Mbps in turbo mode.** Easy to set up and use, it will automatically select the best connection available and adapt the settings to match.
Device Name: NETGEAR WAG511 802.11a/b/g Dual Band Wireless PC Card
Device ID:
PCI\VEN_168C&DEV_0013&SUBSYS_44001385
PCI\VEN_168C&DEV_0013&SUBSYS_46001385
PCI\VEN_168C&DEV_0013&SUBSYS_46101385
Download Netgear WAG511 802.11a/b/g Dual Band PC Card Windows 2000/XP/Vista Driver, Utility:
WAG511 Software Version 5.1(supports Windows Vista), Published Oct 18, 2007
This version does not support Win98SE or Window ME! Use the previous driver if you have thes operating systems!