---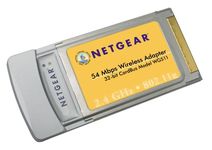 Netgear WG511 has two hardware version. There is no external difference between models, except the label. In the store, versions can be identified by reading the package. On the unit, read the label.
Device Name: NETGEAR WG511 54 Mbps Wireless PC Card
Device ID: PCI\VEN_1260&DEV_3890&SUBSYS_48001385
Download Netgear WG511 (aka WG511v1) Software Release 3.0 for Windows 98se,Me,2000&XP:
Driver Version: 2.1.25.0
Smart Wireless Utility Version: 2.37.25.6
Download 1, Download 2; (5.32 MB). Published: Feb. 27, 2005
Features
Fixed driver incompatibilities.
Added support to save and switch profile between all user accounts (including non-administrator accounts) on Windows XP Home and Professional (including SP2) and Windows 2000 Professional.
Limitations
Users with limited accounts cannot always install programs and might need administrator privileges to install it.
Windows 2000 Server is not supported.