---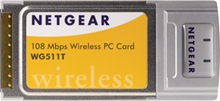 NETGEAR's Super-G Wireless PC Card (WG511T) delivers wireless access to anywhere in your home and boosts your network up to twice the speed and four times the coverage of standard 802.11g connections. Now you get better wireless speed and range to surf, email and send large files across the network.
Device Name: NETGEAR 108 Mbps Wireless PC Card WG511T
Device ID:
PCI\VEN_168C&DEV_0013&SUBSYS_4B001385, PCI\VEN_168C&DEV_0013&SUBSYS_5B001385
WG511T Software Version 5.2  for Vista and Windows 2000/XP
Published Nov 15, 2007
Driver Version: 7.3.1.25 (for Vista), 4.2.2.14 (for XP/2000)
Utility Version: 7.0.12.4 (for Vista), 2.64.33.3 (for XP/2000)
Download 1, Download 2 (8.56 MB)
Known limitations
Vista driver limitation:
XR (Extended Range) not support.
Can't get hidden AP's channel, a/b/g mode and security mode.
When connect to Ad-hoc mode, can not list infrastructure list.
Can't capture CTS/RTS packet.
Fragment setting doesn't work properly.
Link speed always report 54Mbps on 11g connection and 11mbps on 11b.
Ad-hoc mode, the connection is very poor except WPA2-PSK mode.
Vista Utility issues:
While waiting for DHCP IP address assignment, the status bar will temporarily display 169.254.57.150 as the IP address before switching to the correct IP Address.
Windows XP/2000 Utility issues:
The utility can not show 108M link speed even it connect to 108M router (WGT624 or WPN824).
[ From Netgear ]