---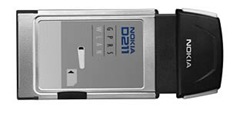 Product Description »
GPRS and Wireless LAN in one PC Card! The Nokia D211 is a multimode radio card for your compatible portable computer that enables network access through GPRS, HSCSD, or Wireless LAN networks.
Simply choose the network type that gives you fastest available connection - and you're on! Browse the Web and send and receive e-mails while on the move. You can even send text messages and faxes. And the leading-edge technologies of the Nokia D211 are hidden behind an easy-to-use graphical user interface.
While you're outside the office, GPRS connection enables instant access from your compatible laptop. You can send and receive e-mails, browse the Internet and access those services that you use back at your office. You don't need to wait until you get back to get things done. You can do them right away. Quickly, easily and conveniently, with 'always-on' connection.
In a wireless LAN network you can get up to 11 Mbit/s speed, which is suitable for large file downloads, reading e-mails with attachments, viewing video from an Internet page, or for mobile video conferencing. Within wireless LAN coverage you can do the same things as with fixed LAN in your office or home ADSL. Wireless LAN networks are currently available in selected airports, Internet cafés, hotels, ski resorts, and company offices.
The Nokia D211 has a text messaging application, which allows you to send text messages with your laptop. You can also SMS chat with your colleagues and friends. And now you don't need to go to your office to send faxes. You can send and receive them to your laptop while travelling.
Multimode radio card (Type II PC card) for compatible portable computers and PDAs (Personal Digital Assistant), EGSM 900/1800, GPRS, HSCSD, wireless LAN (Wi-Fi standard, IEEE 802.11b), Internal antenna, No charging needed (gets power from PC)
Weight: 51 g; Dimensions: 125 x 54 x 5/10 mm, 45 cc
Features: Mobile data connectivity through GPRS, HSCSD or Wireless LAN depending on the network availability; SMS/chat application and GSM fax; Compatible with portable devices with type II PC card slot; Up to 40.2 kilobits per second in GPRS networks
Wireless Connectivity: Up to 43.2 kilobits per second in HSCSD networks; Up to 11 megabits per second in wireless LAN networks
Getting started: The Nokia D211 acts as a wireless modem, allowing you to get a network connection, to send and receive files, e-mail and faxes, and to access the Internet. Follow the seven simple steps below to create a network connection. 1. Slide your SIM card into the smart card slot of the Nokia D211; 2. Insert your radio card into the PC card slot of a compatible computer; 3. Switch on your computer; 4. If you are using a SIM card, enter the PIN code and click OK; 5. During the log on a dialog box opens. To select the profile and connection type, click Select; 6. The Select Connection dialogue box opens. Open the profile and select the connection type you want to use: WLAN - Connects you to a wireless local area network where you can send and receive data. GSM - Allows you to make data calls and utilize GSM high-speed data services if your network supports HSCSD technology and you have subscribed to the service. GPRS - You can establish a GPRS connection and send packet data. You need to subscribe to the GPRS service. OFF - Disconnects the radio card from the network and turns off all radios; 7. Click OK to establish a network connection - and you're on!
Nokia D211 User Guide in English: (Download)
D211_usersguide_en.pdf, Issue 2, updated 23-Jun-2004 | 1.05 MB | English