---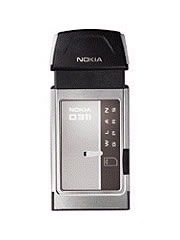 The Nokia D311 is a multimode radio card that enables you to connect wirelessly to a corporate network or to the Internet. The Nokia D311 is the first Nokia product for the US market that combines GPRS and wireless LAN.
Mobile data connectivity through GPRS, GSM Data, or wireless LAN depending on the network availability
SMS/chat application and GSM fax
Compatible with portable devices with type II PC card slot
Wireless Connectivity
Up to 40.2 kilobits per second in GPRS networks
Up to 14.4 kilobits per second in GSM networks
Up to 11 megabits per second in wireless LAN networks
Device Name: Nokia D311
Hardware ID: PCMCIA\Nokia-D311-CA98
Nokia D311 WLAN/GPRS PC Card Win2000/XP Driver, and Quicklink Mobile Cingular Wireless Internetet Connection manager. Versions: 3.5.2 (2 Dec 2004).
Download 1, Download 2 (2.80 MB)