---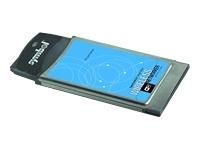 Symbol LA-4121 Spectrum24 Wireless LAN PC Card:
Based on the IEEE 802.11b open standard for wireless local area networking, the Spectrum24 High Rate (HR) LA 41X1 PC Card slips into any laptop or other device with a PC Card slot, providing high-throughput, Ethernet-speed connectivity for wireless data communications. With the LA 41X1 PC Card installed, your workforce gains instant, non-tethered access to vital network resources including corporate intranets, the Internet, documentation, and e-mail. The LA 41X1's direct sequence spread spectrum transmission technology is ideal for supporting high-throughput applications.
Device Name:  Symbol LA-41x1 Spectrum24 Wireless LAN PC Card
Device ID:  PCMCIA\Symbol_Technologies-LA4111_Spectrum24_Wireless_LAN_PC_Card-077d
Download Driver for Symbol LA-4121 Wireless LAN PC Card (for Windows 9x, ME, 2000,XP)
Symbol Mobile Companion Client Software Bundle (Windows Driver, Firmware, Utility), Download
The Mobile Companion Client Software Bundle includes drivers, integrated firmware, and the Mobile Companion utility for network configuration and monitoring.  For the LA-4121 and LA-4123 adapters, the driver will automatically update firmware to the most recent version.
Please refer to the "LA-4121 PC Card and LA-4123 PCI Card User Guide", as well as the release notes, for further information.
This software also suport:
"Symbol Spectrum24 LA-4100 Series Wireless LAN PC Card"
Device Hardware ID:PCMCIA\Symbol-Spectrum24_LA4100_Series_WLAN_PC_Card-e063