---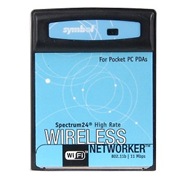 The Symbol Spectrum24 Wireless Networker is a CompactFlash Card that allows Pocket PC devices to connect to a Wi-Fi IEEE 802.11b wireless LAN, or communicate directly with other mobile devices enabled for wireless LAN connectivity.
Features/Specifications:
CompactFlash form factor fits devices with CF Type I and Type II card slot
Data Rate: up to 11 Mbps
Functions with Pocket PC (Windows CE 3.0)
Operates with Windows notebook PCs with PC card slot (using CF-to-PC card adapter)
Automatic rate scaling at 11, 5.5, 2 and 1 Mbps for maximum range
Range up to 300 feet in standard office environments
Support for 40 and 128-bit WEP Encryption
Advanced power consumption management capabilities
Suspend on wireless LAN feature prevents accidental battery drain
Mobile Companion Client Software Bundle (Windows/WinCE 3.0 Drivers, Utility): Download
Driver Only (Windows 2000/XP Drivers): Download
Supports the LA-4137 CompactFlash™ Card on Windows 2000, XP and Pocket PC 2003.
The Mobile Companion Client Software Bundle includes drivers, integrated firmware, and the Mobile Companion utility for network configuration and monitoring. For the LA-4137, the firmware is integrated into the driver. Includes Mobile Companion Utility v. 3.9.2.45; Driver v. 3.9.71.178; integrated LA-4137 Firmware v. 3.9.2-71.