---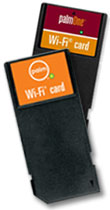 No drivers needed for Treo 700w smartphone: These drivers are for Palm OS devices only.
Important prerequisites & system requirements
Tungsten E2, Tungsten T3, Tungsten T5, or a Zire 72 device. The Wi-Fi Card driver does not support other devices. If you have a Treo 700w smartphone, you do not need to install drivers for the Wi-Fi Card; this software is built into in your smartphone.
Palm Wi-Fi Card inserted during the installation process
5 MB of free memory on your device to accommodate the installer. The 5MB is needed only temporarily. When complete, the installer will automatically be deleted. The driver software takes up approximately 1.1MB of space after installation.
Battery fully charged.
If your battery is not full or you do not have 5 MB of free memory, do NOT install the Wi-Fi Card software onto your handheld.
PC running Windows 98/NT 4.0/2000/Me/XP - Or - Mac OS 9.2.2, Mac OS X, version 10.1.2 or higher, Network HotSync supported on Windows only
Download & Install:
For Windows: palmOneWiFiCard_v1_2.zip (3.8MB)
For Mac: palmOneWiFiCard_v1_2.sit (2.2MB)
I am receiving Fatal Alerts after I installed the Wi-Fi software, or when selecting or editing a Wi-Fi Network.
If you went through the software installation and are receiving Fatal Alerts when selecting or editing a Wi-Fi network, you may need to reinstall the palmOne Wi-Fi Card software. Before reinstalling the Wi-Fi software, you will need to Hard Reset your handheld.
NOTE: When you perform a hard reset, all records and entries stored in your handheld are erased. Formats, preferences and other settings are restored to their factory default settings.
Palm Support : Palm Wi-Fi Card Drivers for Palm OS
Palm Support : Palm Wi-Fi Card Specifications
Palm Support : Wi-Fi Card can't detect a signal ('No Signal') even when there's a network in range
Palm Support : Can't make a wireless connection with the Palm Wi-Fi Card
Palm Support : Special considerations for installing the Palm Wi-Fi card software using the Palm Desktop version that came with the Tungsten T5 handheld
Palm Support : Fatal Alert occurs after installing Palm Wi-Fi Card software
Palm Support : Palm Tungsten W for Rogers Wireless Setup Guide