---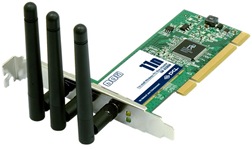 Draft 2.0 IEEE802.11n Wireless PCI Bus Adapter
GW-DS300N is backward compatible with 802.11b and 802.11g standards. It uses the powerful MIMO technology which has further coverage, less dead spots and higher throughput. When GW-DS300N is connecting to the standard 802.11b or 802.11g APs or routers, it can perform much better than other standard stations. It also supports WMM, WMM-PS and WMM-SA (IEEE802.11e QoS standard). In addition, GW-DS300N supports higher data throughput than the IEEE802.11g standard (up to 300Mbps).
Device Name: PCI 802.11n Wireless LAN PCI Bus Adapter
Device ID: PCI\VEN_1814&DEV_0601&SUBSYS_ED0914EA
Download Planex(PCI) GW-DS300N Windows 2000, XP, Vista Driver and Utility, Released at 10/24/2008, English, Chinese, 32.2 MB: Download
GW-DS300N User's Manual, V 1.0, English, Jul. 02, 2007, 1.84 MB, Download
Planex(PCI) GW-DS300N 802.11n Wireless Adapter is based on Ralink RT2860 chipset. If you need the latest Windows driver (for Win2000, XP, Vista, Win 7), please download Here from Ralink.