---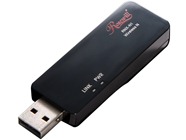 Rosewill RNX-N1 Wireless-N 2.0 Dongle, (2T2R) IEEE 802.11b/g/n USB2.0 Up to 300Mbps Data Rates,
Features:
- The easiest way to upgrade your system into wireless N network.
- 12x speed and 4x coverage over wireless G.
- 802.11b/g/n 2.0 provide further coverage, less dead spot and higher throughput.
- MIMO technology thourghput up to 300 Mbps for Ralink 2T2R solution.
- Supports MIMO technology with 2 Built-in Internal Printed Antennas
- Easy setup with Wi-Fi Protected Setup (WPS).
- Security support WPA/WPA2 (AES, 64,128-WEP with shared-key authentication).
- Support Cisco CCS V1.0, V2.0 and V3.0 compliant WPS.

Download Rosewill RNX-N1 Wireless-N Dongle Windows, MacOS, Linux Driver and Software:
For Win 2000, XP 32/64 bit, Vista 32/64 bit, Win7 32/64 bit, V1.5.1, 08/02/2010, 14.4 M , Download
For Mac OS 10.3/10.4/10.5, V1.7.1, 07/09/2009, 3.1 M, Download
For Mac OS 10.6, V 1.7.5, 02/03/2010, 7.7 M, Download
For Mac OS 10.6.2, V 1.8, 04/20/2010, 7.8 M, Download
For Mac OS X 10.6.4, V1.9, 11/24/2010, 7.8 M, Download
For Linux Kernel 2.6.29, V2.4.0.1, 07/26/2010, 628 K, Download