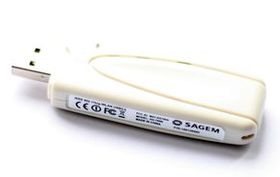 The SAGEM Wi-Fi 11g USB ADAPTER is a network adapter with a rate of 54 Mbps to 1 Mbps operating in the 2.4 GHz band implementing the IEEE 802.11b/g standard. Its USB port is USB 2.0 compliant
It fully supports wireless networking under Windows 98SE/ME/2000/XP/Vista/Win 7.
USB Adapter WiFi 802.11G, Compatible 802.11B, WEP/WPA/WPA2, WMM compliant.
Device Name: SAGEM Wi-Fi 11g USB adapter

Hardware ID: USB\VID_079B&PID_0062
Download Sagem XG760N USB Dongle Drivers, Utility for Win98SE, ME, 2000, XP, Vista, Win7:
SAGEM Wi-Fi 11g USB Adapter Quick Start Guide: Download