---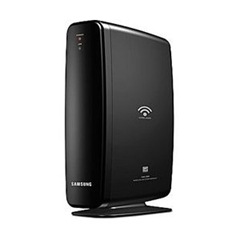 Wireless receiver
The days of running wires to the back of your room are over. Just add this compact rear-channel amplifier to any of our home cinema systems, and enjoy full surround sound with less setup hassle. The SWA-4000 receives rear-channel audio signals wirelessly from your system's main unit. Just connect the two rear speakers to the amp to experience exciting multi-channel sound.
Product Features
Receives 2.4GHz signals from DVD changer/receiver
Designed to work with compatible Samsung home theater systems
2-channel rear amplifier
Transmission range up to 33 feet
Includes TX card to insert in DVD changer/receiver
Size:
5.59"(W) x 12.6"(H) x 8.98(D)

Specs:
power consumption: 60W
frequency range: 20Hz - 20kHz
signal / noise ratio: 75dB
weight: 2.9Lbs.