---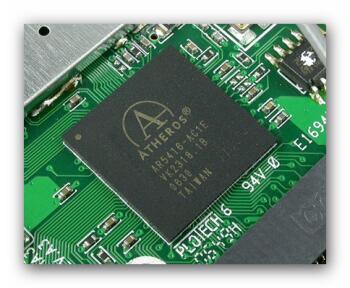 The Atheros AR5008 chipsets are Atheros' highest performance wireless LAN solutions to date. AR5008 products are compliant to the draft 802.11n specification, to deliver the ultimate wireless triple play experience for video, voice and data transmission throughout the home or office.
Video: With real world throughput levels up to 300 Mbps PHY rate,new wireless routers and gateways featuring Atheros XSPAN with Signal-Sustain Technology™ (SST) will readily accommodate multiple high-definition (HD) streams on a single home network.
Voice: Single-antenna wireless voice handsets and legacy devices networked to Atheros-based access points achieve range and robustness from Atheros' triple transmitter architecture. Atheros SST increases total transmit power and spatial redundancy, for dropoutfree coverage.
Data: The array of data applications ranging from simple network computing to transmission of large data, music or image files is enhanced through the high bandwidth provided by XSPAN products.
Supported Device ID:
PCI\VEN_168C&DEV_0024&SUBSYS_0032168c
PCI\VEN_168C&DEV_0024&SUBSYS_0033168c
PCI\VEN_168C&DEV_0024&SUBSYS_13C010CF
PCI\VEN_168C&DEV_0024&SUBSYS_7125144F
PCI\VEN_168C&DEV_0024&SUBSYS_04291468
PCI\VEN_168C&DEV_0024&SUBSYS_04301468
PCI\VEN_168C&DEV_0024&SUBSYS_05021A32
Atheros AR5008 (AR5416 ChipSet) Wireless Network Adapter Driver for Win2000/WinXP: Download
Atheros AR5008 (AR5416 ChipSet) Wireless Network Adapter Driver for Windows Vista : Download
This Driver from thinkpad, also support ThinkPad Wireless LAN(11abgn, abg, bg)