---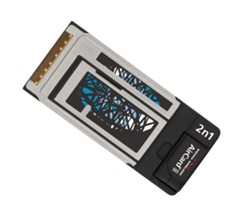 The AirCard 503 is the world's first 2 in 1 custom designed ExpressCard with PC Card adapter for HSPA+ networks. With download speeds up to 21 Mbps and upload speeds up to 5.76 Mbps, the AirCard 503 is a fast and flexible mobile broadband solution. With design features such as TRU-Instal™ automatic software installation and TRU-Durability, Sierra Wireless' rugged hardware design, the AirCard 503 is designed to endure life on the road. With quad band compatibility, roam globally and communicate wherever life takes you.
AirCard 503 quad band WCDMA 850/900/1900/2100 Mhz.
Software: Watcher(s) for Windows XP, Vista, Support Win 7.
Watcher_Generic.msi Version R3.1.0.34.2258 (31.6 MB) [8/14/2009] 
AirCard 503 Quick Start Guide (725 KB) [8/27/2009].