---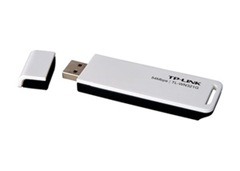 The TP-LINK TL-WN321G Wireless USB Adapter gives you the flexibility to install the PC or notebook PC in the most convenient location available, without the cost of running network cables.
There are multiple revisions of the TL-WN321G, each with version specific drivers, firmware, installation guides, User Guides, and other resources.
Some Products have more than one version, for example, a name ending with V1, V2, etc. Click here to see how to discern the hardware version. The available hardware versions are shown below, please choose the right one for your device.
Download TP-Link TL-WN321G V1 Wireless USB Adapter Win98/ME/2000/XP/Vista/Win7 Drivers, Utility:
TL-WN321G_100324, for Win98SE/Me/2000/XP/Vista/Win7.
(Published Date: 3/24/2010; File Size: 39.2 MB, Notes: For TL-WN321G )
Download TP-Link TL-WN321G V1 Wireless USB Adapter Linux Driver:
Published Date:12/3/2009; File Size: 484.238 KB
Notes: This driver is provided by the chipset manufacturer and we recommend our users install TL-WN321G in Linux with it.
TP-Link TL-WN321G V1 User Guide: TL-WN321G_UG_EN, 3.331 MB
---
TP-Link TL-WN321G V4 is based on the Ralink RT2870 USB Wireless Chipset.
Download TP-Link TL-WN321G V4 Wireless USB Adapter Win2000, XP, Vista, Win7 Drivers, Utility:
TL-WN321G_v4_100611 (Published Date: 6/11/2010; File Size: 18.8 MB)
Notes: For TL-WN321G v4
Device Name: TP-LINK Wireless USB Adapter;
Hardware IDs:
USB\VID_148F&PID_2870, USB\VID_148F&PID_2070
USB\VID_148F&PID_3070, USB\VID_148F&PID_3370
Download TP-Link TL-WN321G V4 Wireless USB Adapter User Guide:
TL-WN321G v4 User Guide (1.767 MB)