---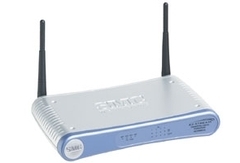 The SMC2304WBR-AG is a platform-independent, multi-functional router that combines a 2.4 GHz/5 GHz 802.11a, b, and g wireless Access Point, 4-port 10/100 Mbps dual-speed switch with automatic MDI-MDIX ports, Stateful Packet Inspection (SPI) firewall security, network management, Virtual Private Network (VPN) pass-through support, and parental controls. The SMC2304WBR- AG supports transfer rates up to 108 Mbps in 802.11a and g modes -- 10 times the data rate and throughput of standard 11 Mbps WLAN products. Its high- bandwidth and high-speed capabilities make the SMC2304WBR-AG perfect for today's demanding home networking: gaming, transmitting music and movies via networked set-top boxes, PCs, and SMC's own EZ-Stream Universal Wireless Multimedia Receiver (SMCWMR-AG) to TVs and stereos. The SMC2304WBR-AG sets-up easily with its EZ 3-Click Installation Wizard. Additional features include an integrated SPI firewall, 802.1x for authorization and authentication, Wi-Fi Protected Access, disabled SSID broadcast, and MAC address filtering.
Firmware
Release
Version
Language
Size
Info
Download
01/01/2004
1.09
EN
745 kb
V1.09 .Resolves all overall lock up issues Add support for multicast
SMC2304WBR-AG Firmware Version 1.09
01/01/2004
1.10
EN
747 kb
 
SMC2304WBR-AG fw1.10
WARNING:
Do NOT upgrade firmware on any SMC product over a wireless connection. Failure of the device may occur. Use only hard-wired network connections.
SMC2304WBR-AG Datasheet, 03/07/2006, 477 kb, 
Download
Quick Install Guide for SMC2304WBR, 01/01/2004, 2746 kb,
Download
SMC2304WBR-AG english manual, 01/01/2004, 3509 kb,
Download
SMC2304WBR-AG Quick installation Guide, 01/01/2004, 2133 kb,
Download