---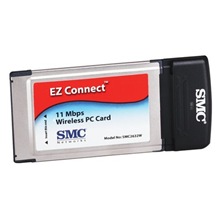 The SMC 11 MBps PC Card provides true wireless LAN networking for your notebook PC. The card supports up to 128 users on a peer-to-peer basis or connected through an existing network using the optional access point. Its operating range goes up to 1,500 feet. The new card is ideal for use with cable modems, DSL, and SOHO applications, and it provides guaranteed broadband compatibility with the optional access point.
11 Mbps Wireless lan
2.4 GHZ frequency band
Direct Sequence Spread Spectrum (DSSS)
64-bit or 128-bit WEP encryption
LEDs monitor network activity
SMC2632W EZ Connect 11Mbps Wireless PC Card has 3 model (according to Part Number):  * Where do I find my Part Number?
For Part Number 99-012006-000:
Device ID: PCMCIA\SMC-SMC2632W-AF67; PCMCIA\SMC-SMC2632W-1783
Device Name:
"SMC SMC2632W EZ Connect Wireless PC Card_5V"
"SMC SMC2632W EZ Connect Wireless PC Card"
SMC2632W V.1, Win9x/ME/2000/XP drivers, 01/01/2004, 1.32, 624 kb, Download
SMC2632W, SMC2602W Drivers for Linux, Windows, WinCE, 01/01/2004, 1.32, 2475 kb, Download
For Part Number 99-012083-047:
Device Name: SMC2632W V.2 Wireless PC Card
Device ID: PCMCIA\SMC-2632W-V2-C008
Download SMC2632W v.2 Win98/ME/2000/XP, Linux Drivers, Utility, 02/11/2005, 1.12, 3842 kb, Download
For Part Number 99-012084-024:
Device Name: SMC EZ Connect Wireless PC Card(SMC2632W V.3)
Device ID: PCMCIA\SMC-2632W-BF0C
Download SMC2632W v.3 Windows 98/ME/NT/2000/XP Drivers, Utility, 01/01/2004, 5472 kb, Download