---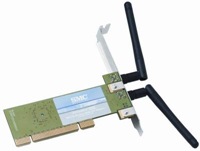 2.4GHz 54Mbps MIMO Wireless PCI Adapter
The new EZ Connect™MIMO g 802.11g MIMO Wireless PCI Adapter (SMCWPCI-GM) enables you to connect to 802.11g or 802.11b wireless networks at home, at the office or at public hotspots. The SMCWPCI-GM provides the speed, coverage, and security expected by today's wireless users when they communicate, download or upload large files, stream audio, video or use other bandwidth-intensive applications. The SMCWPCI-GM is based on an advanced Ralink MIMO G chipset that is compliant with the IEEE 802.11g standard and certified by the Wi-Fi Alliance. This MIMO Wireless PCI Adapter when used in its MIMO mode with a compatible MIMO router or access point, is 20 times faster than older 802.11b wireless networking devices and yet is 100% back- wards compatible with them.
Device Name: SMC SMCWPCI-GM EZ Connect TM 802.11g Wireless PCI Adapter with MIMO Technology
Device ID: PCI\VEN_1814&DEV_0401&SUBSYS_EE051113
SMCWPCI-GM is Ralink RT2561 & RT2661 series Wireless LAN Card.
Download SMC Wireless PCI Adapter (SMCWPCI-GM) Windows 2000/XP/Vista Drivers:
Release
Version
Language
Size
Info
Download

---

01/02/2008
N/A
EN
3590 kb
SMCWPCI-GM Vista Driver
01/14/2008
v1.1.2.0
EN
5365 kb
SMCWPCI-GM 2000,XP Driver 1.1.2.0
If you need the latest windows driver for SMCWPCI-GM,  just apply the Ralink driver. Here