---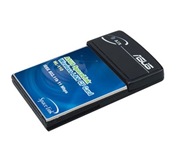 ASUS SpaceLink WL-110 Wireless LAN CF Card:
Compact Flash Type II interface
Small and light weight
Comply to Windows CE 3.0, Pocket PC 2002 PDA
Site survey tool to ease the wireless networking topology optimization
Secure 40/128-bit WEP with periodically change keys
Device Name: ASUS 802.11b Network Adapter
Device ID Supported:
PCMCIA\ASUS-802_11B_PC_CARD_25-D4C3
PCMCIA\ASUS-802_11B_CF_CARD_25-5645
PCMCIA\ASUS-802_11B_PC_CARD_3-111B
ASUS SpaceLink WL-110 CF Card Driver for Win98SE/ME/2000/XP.
Download 1, Download 2  (File Size: 1.74 MBytes, 2003/11/21 update)
ASUS WL-110 CF Card Driver, Utility and Utility release note for The WinCE 4.0 & Pocket PC 2003, English Version.
a. The Zip file contains setup program for ASUS WL-110 CF Card Utility and Driver.
b. Utility release note.
1. Support Multi-language. 2. Change WiFi to Wi-Fi.
Download 1, Download 2 (File Size: 1.39MBytes, 2004/03/17 update)
ASUS SpaceLink WL-110 CF Card User Manual of English version, 1.31 (MBytes): Download