---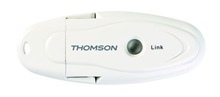 THOMSON TG123g, 802.11g Wireless USB 2.0 Network Adapter, based on the Realtek RTL8187B chipset.
Enable your wireless networks with the Technicolor TG123g USB adapter and you will attain data transmission speeds of up to 54Mb/s between all your shared devices.
With full support of the Wi-Fi MultiMedia* (WMM) quality of service mechanism, you'll experience its real-time applications, such as video, voice, and gaming just by plug and play.
In the meantime, you are backwards compatible with the existing installed base of millions of Wi-Fi systems worldwide.
The Technicolor TG123g supports operation with both IEEE 802.11b and802.11g, and is Wi-Fi CERTIFIED*, including WPA and WMM. The GUI set-up wizard makes the Technicolor TG123g very easy to configure.
Device Name: TG123g USB Wireless Adapter

Hardware IDs: USB\VID_0BDA&PID_8189&REV_0200
THOMSON TG123g 802.11g USB Adapter Win98/ME/2000/XP/Vista/Win7 Drivers, Software:
Download 1, Download 2 (ZIP, 1.12M - 02/03/2010)
Thomson TG123g Windows utility Installer (V1.0, EXE, 5.69M - 01/31/2008)
These software are from Thomson Official.
If you need the latest Windows/Mac OS/Linux driver,software for Thomson TG123g, click here (Realtek RTL8187B)