---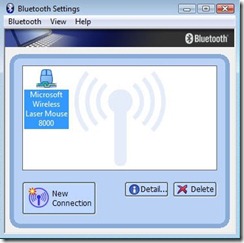 Toshiba Bluetooth Stack (Bluetooth Utility) is suitable for TOSHIBA Bluetooth adapter.
The Bluetooth Utility is a software tool used to configure a variety of settings once a connection has been established between the PC and the Bluetooth wireless technology device. It also facilitates the exchange of files between devices having onboard Bluetooth wireless technology.
The Bluetooth Utility comprises the following six tools. Descriptions are provided for the functions and the supported profiles for the respective tools.
Bluetooth Settings
Bluetooth Manager
Bluetooth Information Exchanger
Remote Camera
Bluetooth Local COM
Wireless File Transfer
Skype Assistant
Toshiba Bluetooth Stack (Bluetooth Utility) for Windows XP 32/64bit, Vista 32/64bit, Win7 32/64bit,Ver.8.00.06:
Download (77.8 MB)
Supported Bluetooth Devices Listed Below:
TI Mistral Bluetooth Device, Sony Bluetooth Device, Formosa Bluetooth Device, GIANT Bluetooth Device, Belkin Bluetooth Device, Panasonic Bluetooth Device, ICSI Bluetooth USB Device, Philips BluePearl Bluetooth USB Device, Itronix Bluetooth Device, Dell Bluetooth USB adapter, HP integrated module with Bluetooth wireless technology, ISSC USB Bluetooth Device, Air2U Bluetooth Device, Fujitsu Siemens USB Device, Actiontec USB Bluetooth Device BTM200, Samsung Bluetooth Device, Microlink-Foxlink Bluetooth Device, BT-183 Bluetooth 2.0, Dell Bluetooth USB adapter, Kodak DBT-220 USB Bluetooth Adapter, MSI Bluetooth Device, D-Link DBT-120 USB Bluetooth Adapter", TOSHIBA Bluetooth Adaptor-2, Bluetooth USB Controller (ALPS/UGPZ6), Taiyo Yuden Bluetooth Device(BC04-External), Dell Wireless 360 Bluetooth Module, Panasonic Bluetooth Device, BOSCH USB Bluetooth Device, Motion Computing USB Bluetooth Adapter, Sitecom USB bluetooth2.0 class 2 dongle CN-512, Sitecom USB bluetooth2.0 class 2 dongle CN-520, Sitecom USB bluetooth2.0 class 1 dongle CN-521, PT USB BT, PT Bluetooth Ver2.0 USB+EDR Adapter, Bluetooth 2.0 USB adapter 10m CN-512v2 001, Bluetooth 2.0 USB adapter 100m CN-521v2 001, PTM-UBT3, BT-183 Bluetooth 2.0, USB Bluetooth Driver (V2.0+EDR), TAIYO YUDEN Bluetooth Device, TAIYO YUDEN Bluetooth Device, TAIYO YUDEN Bluetooth Device, TAIYO YUDEN Bluetooth Device, Bluetooth USB Controller-6 from TOSHIBA, USB Bluetooth Driver (V2.1+EDR), Bluetooth USB Controller (ALPS/UGPZ9), TOSHIBA Bluetooth Adaptor-3, BT183-V2, Bluetooth USB Controller-7 from TOSHIBA, USB Bluetooth Driver (V2.1+EDR), BT-183 Bluetooth 2.1 + EDR …