---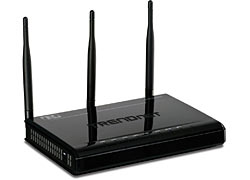 The 300Mbps Wireless N Gigabit Router offers unsurpassed wireless speed, coverage and reliability. Enjoy up to 14x the speed and 6x the coverage of a wireless g connection. Gigabit Wide Area Network and Local Area Network ports transfer your data fast. Wi-Fi certification ensures optimal wireless throughput signal strength and compatibility.
Features:
4 x 10/100/1000Mbps Auto-MDIX LAN ports
1 x 10/100/1000Mbps WAN port (Internet)
Gigabit LAN ports for high speed network connectivity
Compatible with most popular cable/DSL Internet service providers using Dynamic/Static IP, PPPoE, PPTP and L2TP
High-speed wireless data rates up to 300Mbps using an IEEE 802.11n connection
Universal Plug and Play (UPnP) for auto discovery and support for device configuration of Internet applications
One-touch wireless security setup using the Wi-Fi Protected Setup (WPS) button when connecting to a WPS supporting device
Complete wireless security with WPA/WPA2, WPA/WPA2-PSK, and WEP
Windows 95/98/NT/2000/XP/2003 Server/Vista/7, Linux and Mac OS supported
*Maximum wireless signal rates are referenced from IEEE 802.11 theoretical specifications. Actual data throughput and coverage will vary depending on interference, network traffic, building materials and other conditions.
TEW-639GR (version v2.0R)
TYPE
DESCRIPTION
DATED
FILE SIZE
Data Sheet

TEW-639GR Data Sheet
Please Choose a Language:

7/23/2010
-
Firmware

Firmware Version: v2.0.0.0
Release Date: 3/2010

Note:


File Name:TEW-639GRv2(FW2.0.0.0).zip
3/18/2010
2.81Mb
GPL Source Code
The following downloads are not necessary for most users. Some TRENDnet products include software code written by third party developers. These codes are subject to the GNU General Public License ("GPL") or GNU Lesser General Public License ("LGPL").

Click on the link under Download Files for the desired TRENDnet product to access to the GPL Code or LGPL Code. These codes are distributed WITHOUT WARRANTY and are subject to the copyrights of the developers. TRENDnet does not provide technical support for these codes. Please go to http://www.gnu.org/licenses/gpl.txt or http://www.gnu.org/licenses/lgpl.txt for specific terms of each license.

For a list of all available GPL Souce Codes, click here.

File Name:GPL_TEW-639GR(V2-2.0.0.0).zip
7/22/2010
257.36Mb
Quick Installation Guide

TEW-639GR Quick Installation Guide
Please Choose a Language:

3/18/2010
-
User's Guide

TEW-639GR User's Guide
Please Choose a Language:

3/18/2010
-