---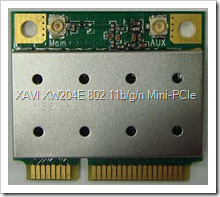 Overview:
XW204E is an integrated IEEE802.11b/g/n half size Mini PCI Express MIMO wireless LAN module. It adopts Atheros, AR9285 single-chip solution for 2.4GHz 802.11n-ready, wireless local area network that enables a high performance, 1x1 configuration for wireless station application demanding robust link quality and maximum throughput and range. XW204E supports 65Mbps for 20 MHz and 150 Mbps for 40 MHz channel, and IEEE 802.11b/g data rates. XW204E provides a flexible, high performance and low cost solution for NB, PC and mobile equipment application.
Features
.  Half size Mini PCI Express card, Interoperable with IEEE802.11b/g/n WLAN.
.  1x1 MIMO technology improves effective throughput and range over existing 802.11b/g products.
.  Wireless multimedia enhancements quality of service support (QoS).
.  802.11e-compatile bursting. .  Support for IEEE802.11e, and IEEE802.11i standards.
XAVI XW204E 802.11b/g/n MiniPCIe Wireless LAN Module Windows Drivers, Software:
For Windows XP 32/64bit:  Download Here
For Windows Vista 32/64bit:  Download Here
For Windows 7 32/64bit:  Download Here
(To find latest Atheros AR9285 generic driver for Win2000, XP, Vista, Win7 in this website )