---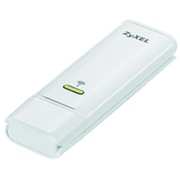 High Speed Wireless Access
Compatible with the IEEE 802.11g/11b standard, ZyXEL wireless cards provide users with data rates up to 54Mbps; 5 times faster than 802.11b standard.
Works with IEEE 802.11g WLAN Standard Device
For PCs to share network resources and/or Internet access without connecting with an Ethernet cable, install a wireless client adaptor in each PC. Depending on the type of interface available, you can choose from USB, PCMCIA/Cardbus or PCI wireless client adaptors.
Device Name: ZyXEL G-202 Wireless USB Adapter
Hardware ID: USB\Vid_0586&Pid_3410
Download ZyXEL G-202 Wireless G USB Adapter Windows 98/ME/2000/XP/Vista Drivers:
| Model | Version | OS | Release Date | Size | Download |
| --- | --- | --- | --- | --- | --- |
| G-202 | 2.2.1 | Windows 2000/XP/Vista 32/64bit | 05-25-2009 | 1 MB |  1 | 2 |
| G-202 | 2.0.2.5 | Windows 98SE /ME/2000/XP/Vista | 07-02-2007 | 1 MB |  1 | 2 |
Download ZyXEL G-202 Wireless G USB Adapter Utility for Windows 98/ME/2000/XP/Vista:
| Model | Version | OS | Release Date | Size | Download |
| --- | --- | --- | --- | --- | --- |
| G-202 | 2.2.1 | Windows 2000/XP /Vista 32/64bit | 05-25-2009 | 21 MB | US | Europe |
| G-202 | 2.0.2 | Windows 98SE /ME/2000/XP/Vista | 04-26-2007 | 52 MB | US | Europe |