---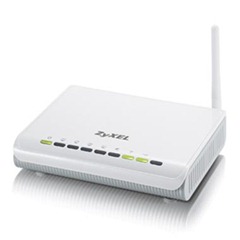 Thanks to the 802.11n technology, the ZyXEL NBG-416N Wireless N-lite Home Router upgrades your wireless network with ease. Its rich green features provide power-saving benefits without compromising performance.
WMM QoS for multimedia streaming prioritization
Green router saves energy by detecting link status and cable length
Wireless scheduler and output power management provide eco-friendly home network environments
Wi-Fi Protected Setup (WPS) button to simplify secure network setup
Enhanced security with WEP, WPA/WPA2 and firewall
ZyXEL NBG-416N Wireless N-lite Home Router Firmware:
Download 1 | Download 2 (Version: 1.00(USA.4)C0; Nov 15, 2011; 2.3MB )
Notes:
1.  Default LAN IP: 192.168.1.1
2.  Default username/password: admin/1234
3.  Firmware upgrades may reset the router's configuration options to the factory defaults. Before performing an upgrade, please backup you current configuration first.
ZyXEL NBG-416N Wireless N-lite Home Router User's Guide:  Download 1 | Download 2 (Jan 17, 2011)
[ More info from ZyXEL ]