---
3Com 11Mbs Wireless LAN PCI Card, Product # 3CRDW696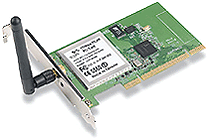 Device Name: 3Com 3CRDW696 Wireless LAN PCI Adapter
Device ID: PCI\VEN_1260&DEV_3873&SUBSYS_000110B7
Download 3Com 3CRDW696 11Mbps Wireless LAN PCI Adapter Windows Driver, Support Windows 95OSR2/98/98SE/ME/2000/XP:
rdw696.exe, (26 Jul 2002, V1.7.37, 5.64 MB)
Installation CD 1.0 for the 3CRDW696 11 Mbps Wireless LAN PCI Adapter. This is a self-extracting file that will extract the contents of the Installation CD to a location on your hard drive (default c:\3com). Includes 3Com 11Mbps Wireless LAN PCI Adapter Drivers ver. 1.7.37. Does not include Acrobat Reader. Does not include 3Com Connection Assistant. 
User Guide for the 3CRDW696 11Mbps Wireless LAN PCI Adapter: 3crdw696_ug_e.pdf, (18 Jul 2002,  318.44 Kb)