---
The Pitch and Product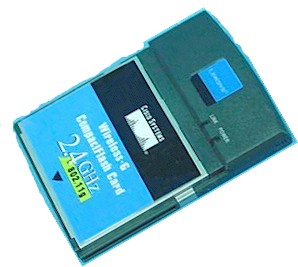 Linksys Wireless-G CompactFlash Card
Summary
First CompactFlash 802.11g adapter. For PocketPC 2002, 2003 only.
Update
None
Pros
• Full-featured client application
• No WEP throughput hit
Cons
• Client application poorly organized
• WPA not supported
• PocketPC only & no Win98, 2000 or XP drivers
Linksys' WCF54G Wireless-G Compact Flash Card is the first 802.11g card in Compact Flash format. Since PocketPCs are hardly the fastest computing devices around, you might ask "why bother?". The answer is that 11g for PocketPC's isn't so much a matter of faster network access for the handheld devices themselves, but more a matter of not slowing things down for speedier WLAN users, due to the 11b protection mechanism built into 802.11g.
TIP: See this page of our 802.11g NeedToKnow for an explanation of the 11b protection mechanism.
The WCF54G is also the first retail 802.11g wireless adapter to be based on the WaveLAN multi-mode chipset from Agere Systems. Figure 1 shows the adapter stripped of its protective covers so that you can gaze upon its naked chipset beauty.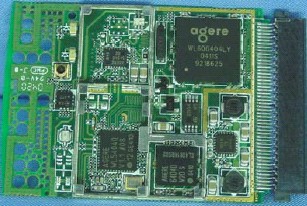 Figure 1: The Board
The adapter fits a Type II CompactFlash slot and has Link and Power LEDs. What it doesn't have is drivers for anything other than Windows PocketPC 2002 or higher. This not only means no 'nix support, but also no-go with any other Windows flavors. The latter point is especially disappointing, since it would be handy to be able to slip the card into a CF / PC card adapter for notebook use.
The install on my HP H2210 iPAQ went uneventfully, but I was disappointed to find that although the card was active (lights blinking away), none of the three access points that I tried could be detected by the card. But Linksys sent a second card, which was up and associated within seconds of my inserting it. Let's hope that my DOA experience is not a common one!
The Client Utility essentially takes over from the PocketPC's crude wireless capabilities and appeared in the lower right corner of the iPAQ's Today screen (Figure 2), next to the built-in Bluetooth icon.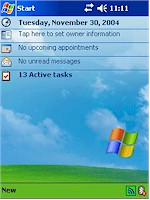 Figure 2: Today Screen with WCF54G client icon
(click to enlarge)
I found I had to hunt around the client app's various screens to find all the knobs to twiddle. But once I found everything, I didn't see any glaring omissions. There's even a pretty good on-line help.
Figures 3 through 8 show most of the Client Manager's screens, with the Status screen evoking memories of the old Agere ORiNOCO client manager. As I said, most of what you'll need is somewhere in the maze of separate screens, but there is, of course, room for improvement.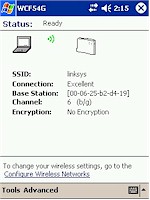 Figure 3: Status
(click to enlarge)