---
Introduction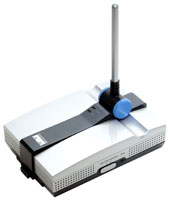 Linksys Wireless-G Range Expander
Summary
WDS-based wireless repeater. Designed for use with Linksys WAP54G, WRT54G & WRT54GS, but can be used with other WDS-based products if you're adventurous
Update
None
Pros
• Auto-setup works well with targeted products
Cons
• Poor and highly variable throughput vs. range
• Limited troubleshooting tools
• Inconsistent performance
The addition of WDS-based (Wireless Distribution System) bridging and repeating features to consumer wireless products has been a mixed bag for consumers and networking product producers alike. On one hand, it has enabled some purchasers to extend their wireless network's range or join wired LANs in separate buildings at a very reasonable cost. But the flip side is that manufacturers' support lines have been buzzing by bewildered consumers trying to figure out how to get the darned feature to work.
It hasn't helped either that the user interfaces for WDS features haven't used consistent nomenclature or even be properly identified as WDS-based by some manufacturers bent on trying to differentiate their products. And don't even get me started the poorly written user documentation! The whole mess seems to cry out for a solution.
Buffalo Technology's has tried an approach of bundling a wireless router and repeater as a pre-configured kit. But with its WRE54G Wireless-G Range Expander, Linksys has taken another road. They have abandonded the signal amplifier route taken with the wildly popular, but now discontinued, WSB24 [reviewed here] and instead opted to take a WDS repeater approach that will minimize their certification activities with the FCC. I found that Linksys' intentions were noble, but that its goal of an auto-configuring wireless repeater has been only partially met.
Tip: See our Setting up WDS Bridging / Repeating HowTo for help in sorting the whole WDS mess out.