---
Introduction
BuffaloTech AirStation 54Mbps Wireless Compact Repeater Bridge-g
Summary
- Broadcom-based mini-AP that includes WDS-based wireless bridging and repeating
- Replaced by WLA-G54C
Update
10/15/2003 - Added reference to WLA-G54C
Pros
• 11g spec compliant, WPA, and WDS repeating / bridging
• Very compact size
Cons
• Can't attach external antenna
• Cable weight and inflexibility can overpower its compact size and light weight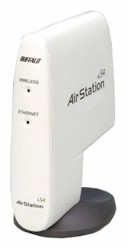 Buffalo Tech's AirStation 54Mbps Wireless Compact Repeater Bridge-g is actually a full-featured 802.11g access point that supports WDS-based wireless bridging and repeating. It comes in an extremely small and light package that's about the size of your average PocketPC or Palm PDA, and is meant to stand vertically when slipped into the small plastic base that comes with the product.
Although its tiny size should keep your spouse or significant other's objections about its addition to your home's decor to a minimum, I would like to see BuffaloTech add screw mounting features to the base. This would make wall mounting easier and allow it to be tacked down to a desktop so that the weight of its own power and Ethernet cables doesn't cause it to topple over - as it did a few times during my testing.
The WLA2 uses Broadcom's BCM4702 Wireless Network Processor which is the same as used in Buffalo Tech's WBRG54 router and Linksys WAP54G and WRT54G AP and routers. The mini-PCI radio is marked as a Buffalo Tech WLI-MPCI-G54, but the WLA2's FCC ID says the radio is essentially a copy of Broadcom's mini-PCI reference design.
There are actually two diversity antennas inside the WLA2's teeny case, one fastened vertically to the front panel, the other horizontally mounted along the bottom of the upper case (right above the connectors). Unfortunately, neither can be replaced with an higher-gain external antenna, which I found puzzling given the WLA2's bridging and built-in Power-Over-Ethernet (POE) capabilities.