---
Introduction
At a Glance
Product
- Buffalo Wireless-N Nfiniti Dual Band Gigabit Router & Access Point (WZR-AG300NH)
- Buffalo High-Speed wireless CardBus adapter (WLI-CB-AG300N)
Summary
Simultaneous dual-band gigabit LAN draft 11n router and CardBus card based on Marvell silicon
Pros
• Two radios for simultaneous 2.4 and 5GHz band support
• Automatic wireless security setup
• IPv6 support
• Simple priority-based QoS
Cons:
• Not Draft 1.10/2.0 compliant
• Does not automatically switch between 40 and 20MHz bandwidth modes
• Reduced range in 40 MHz mode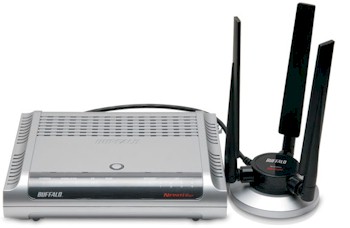 A lot has happened in the four months or so since I temporarily swore off reviewing draft N products. 11n draft 1.10 was approved, Apple announced a draft 11n AirPort Extreme and revealed that it had hidden draft 11n wireless inside most of its recent Macs and Intel tossed its hat into the draft 11n ring.
But the more relevant news—at least to this review—is the announcement of dual-band draft 11n gear. It seems that manufacturers are finally realizing that most 11n gear will never be able to achieve full channel-bonded speeds in the 2.4 GHz band without wiping out neighboring networks. Instead, they'll need the relatively wide-open spaces of 5 GHz in order to achieve their much-hyped top speeds.
Apple, D-Link and Buffalo announced dual-band products at or around January's Consumer Electronics show (and Linksys withdrew its prematurely-revealed entry). Apple was the first to ship the single-radio Airport Extreme mentioned above. But Buffalo is the first to ship a two-radio dual-band draft 11n router capable of simultaneously supporting 2.4 and 5 GHz wireless LANs. And Buffalo's Wireless-N Nfiniti Dual Band Gigabit Router & Access Point (WZR-AG300NH) is what I'll be looking at in this review.