---
Introduction & Basic Features
BuffaloTech 125* High Speed Mode Wireless Remote Secure Gateway (WZR-RS-G54)
Summary
802.11g router with Broadcom 'Afterburner' speedup technology, AOSS, and built-in PPTP VPN endpoint
Update
None
Pros
• Wireless routing w/ WDS bridging / repeating
• Push-button secure wireless setup
• No WEP or WPA throughput hit
• Built-in fast PPTP endpoint with Wake-on-LAN
• Includes TightVNC remote desktop control app
Cons
• WPA not supported for WDS bridging
• Firewall lacks competitive features
• Can't use bridging/repeating with AOSS
• Poor range performance in 125* High Speed Mode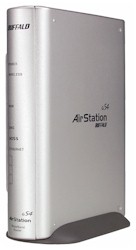 Buffalo Technology's WZR-RS-G54 125* High Speed mode Wireless Remote Secure Gateway is the company's first attempt at a consumer router with built-in VPN endpoint. But instead of going with the usual IPsec endpoint, Buffalo instead chose to break from the pack and incorporate a PPTP-based solution. While my first reaction to this choice was puzzlement, after my time with the product, and a little research, I think I've come to understand why the company decided to buck the current competitive approach.
The WZR is the first Buffalo product I've had my hands on that uses their rounded rectangular packaging. But instead of the off-white case used by its WHR3-G54 non-endpoint sibling, the WZR has a pearlescent light-gray finish, which, to my eye, is a big improvement over Buffalo's previous ovoid case.
Indicators on the front panel (Figure 1) include Power, Wireless, and Diag plus Remote Access (VPN), which lights when a PPTP tunnel is active and AOSS, which indicates when Buffalo's AirStation OneTouch Secure System automatic secure wireless setup system is working. There's also a single WAN and four Ethernet (LAN) link / activity lights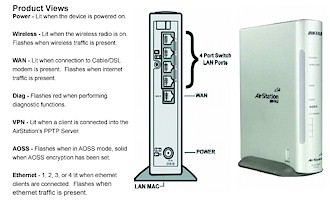 Figure 1: Front and Rear panels
(from WZR-RS-G54 User Manual)
(click image for larger view)
The rear panel has four 10/100 LAN ports, single 10/100 WAN port, power connector and external "MC (custom "Lucent") antenna connector hidden behind a little sliding cover. All ports are auto MDI / MDI-X and the WAN port can have its speed and mode set via the Admin interface. The Reset-to-Factory-Defaults Init switch is on the bottom and there's a dedicated AOSS switch on the side.
Negatives were that I found that the translucent panel over the indicator lights softened them so much that they tended to blur together and also limited their visibility when viewed off axis. I also found that the itty-bitty MC external antenna connector also wasn't aligned with the hole in the case. (When I opened the case I found this caused by the antenna board not having been seated properly during assembly. When I popped the board into its proper place, it aligned correctly.) And finally, neither the case nor stand have any wall / ceiling mounting features.