---
Introduction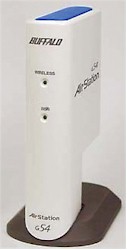 BuffaloTech AirStation 54Mbps Wireless USB Adapter (WLI-USB-G54 )
Summary
The first USB-based 802.11g wireless client adapter. Uses Broadcom '54g' technology. Requires USB 2.0 for max speed, but can be used with USB 1.1 too.
Pros
• Supports WPA
• Accepts external antenna
• No throughput loss due to USB
Cons
• Does not support Broadcom "Xpress" throughput enhancement
• No integrated WPA supplicant in client application
• Over 20% throughput loss in WPA TKIP mode
Buffalo Tech's WLI-USB-G54 AirStation 54Mbps Wireless USB Adapter is the first-announced and first-available 802.11g adapter that supports connection via USB 2.0. It's also the only 11g / USB2 adapter announced so far to be based on Broadcom's AirForce chipset. All the others from NETGEAR, Linksys and D-Link use GlobespanVirata's (formerly Intersil) PRISM GT chipset.
The USB-G54 comes in the same, small, inverted-"L" package used by Buffalo's WLI-TX1-G54 11g Ethernet converter and WLA-G54C 11g AP / Bridge / Repeater. It's small enough to be inobtrusively tucked away or even left out in plain sight.
The main downsides to the package are that cable weight can drag it around, there aren't screw-mounting features on the unit or its detachable base, and it has fixed position internal antennas. The pluses are that the antennas are dual diversity and that a higher-gain external antenna can be added via an MC type connector.
The USB-G54 is based on Broadcom's BCM94333U reference design which is built around the BCM4333 802.11 Bridge Processor. The mini-PCI radio is marked as a Buffalo Tech WLI-MPCI-G54, but the FCC ID on the radio and on the USB-G54 says the radio is essentially a copy of Broadcom's mini-PCI reference design.
There are two diversity antennas inside the case; one fastened vertically to the lower front panel, the other horizontally mounted along the top of the upper case. This top antenna unit contains the RF switch / MC connector for an external antenna, which is covered by a removable plastic plug.
Tip: During performance testing I found that you need to point either side of the USB-G54 in the direction of your AP for best results.